BD Ultra-Fine 4mm Pen Needles, the shortest insulin pen needle, are now manufactured with Easy Flow Technology and the needles have Penta-Point comfort, meaning injecting insulin will have less pain but will still be able to efficiently deliver the insulin in your system.
It is the only insulin pen needle with this technology.
Pen Needle Features:
Improved Proportions and Grip

Enables simple one-hand re-covering

Revised Design and Added Grips

Proven 32Gx4mm PentaPoint EasyFlow Cannula

Engineered Injection Surface area designed for improved performance and comfort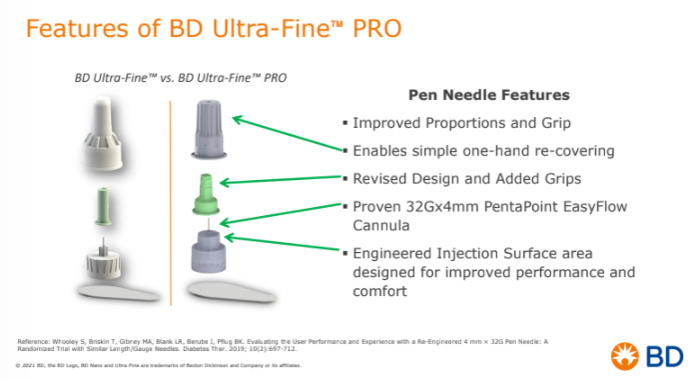 HOW TO ORDER?
(1) Select your item of choice
(2) Place your order by clicking BUY NOW or ADD TO CART for multiple orders.
(3) Adjust quantity as necessary
(4) Fill out the shipping details
(5) Select mode of payment
(6) Check out… we will process your order and let us know when to prepare or ship your order.
(7) Track and Wait for your order 🙂
MORE #DiabetesFriendlySnacks and goodies AVAILABLE at #TheDiabetesStore IMPORTANT:
#teamdiaBEATes #Diabetes #DM #BD #PenNeedle #InsulinNeedle